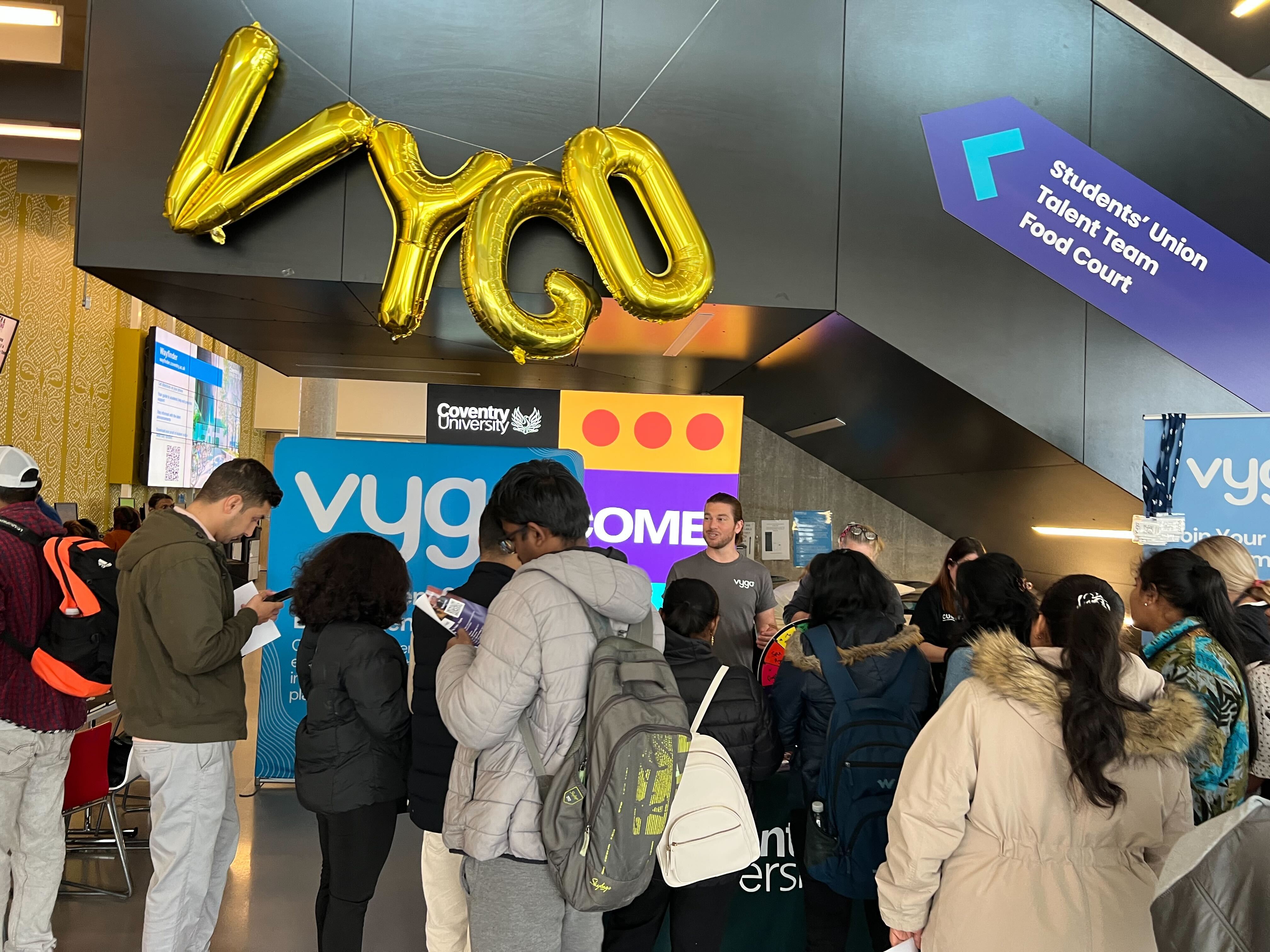 In today's digital age, where online platforms and virtual connections dominate the educational landscape, it's easy to overlook the value of in-person engagement. However, recent research and empirical evidence consistently demonstrate that face-to-face interactions play a vital role in fostering student success. On Wednesday, 17th May, Vygo co-hosted an event at a partner University's main campus, in collaboration with their Success Coaches and Peer Mentors, which showcased the power of combining a virtual platform with in-person engagement to drive positive student outcomes.
Securing a Good Turnout
With over 300 students in attendance, about 3x the numbers we expected, the event served as a testament to the effectiveness of bringing students together physically. We saw impressive results with 281 new students - the majority on International Business Management courses as part of the May intake - registering on the Vygo platform, and 219 students making valuable connections with peer mentors then and there. These statistics highlight the significance of in-person events in encouraging student engagement and establishing meaningful relationships.
One of the main reasons that drew students to the event was the array of incentives offered. Attendees could "spin to win", with sustainable prizes such as:
Tote bags
Umbrellas
Notebooks
T-shirts
Water bottles
Stickers
Pens
Lanyards
These giveaways not only served as tokens of appreciation but also created a sense of excitement among the students, drawing in a huge crowd. Additionally, students were awarded a free lunch voucher for sending a detailed introductory message to their mentors, further incentivising active participation.
To maintain the students' enthusiasm throughout the event, a prize draw was held at the end, providing an extra element of anticipation. To mix things up and give a sense of how in-person interactions could translate to virtual conversations we also ran a "speed-friending" activity, helping them gain valuable insights and skills.
The Evidence
When comparing data for the same week the previous year, here is the impact:
New accounts 178% increase
Program joins: 435% increase
Message sent: 557% increase
Recent research supports the positive impact of in-person engagement on student success. A study by Kahu and Nelson (2018) found that face-to-face interactions with peers and mentors have a significant positive influence on student engagement, academic achievement, and overall satisfaction with the university experience. Another study by Tinto and Pusser (2019) highlighted that in-person connections with mentors and faculty members contribute to higher retention rates and increased persistence toward graduation. Furthermore, research conducted by Brown and Rice (2021) demonstrated that students who engage in regular face-to-face interactions with mentors experience higher levels of motivation, self-efficacy, and a sense of belonging, leading to improved academic performance and well-being.
What mentors had to say about it.
"I have helped over 30 students and spent more than 72 hours in chats and one-on-one sessions helping them. It has helped me in improving things like language, communication and understanding other people's customs and what they are looking for."
"When people come to me with questions it helps me to learn about the services that are available in the university, so it has also helped improve my own knowledge, so Vygo is a good platform for every student to learn and improve themselves."
"Thank you for the lovely event and looking forward to more like that. As a mentor, it was quite a learning experience for me. It gives me an opportunity to interact with new students and success coaches. Thank you to your team for setting up such a great event. Thank you for the lovely lunch and gifts. Congratulations!"
With Vygo's peer mentoring software at the forefront, the event at this University demonstrated five key ways in which the platform enhances student success:
Personalised Support: Connecting students with experienced peer mentors who provide tailored guidance and support based on individual needs.
Building Networks: By facilitating face-to-face interactions, Vygo helps students develop valuable networks and connections, both academically and socially with calendar integrations and session booking functionality.
Enhancing Confidence: Through regular in-person meetings and workshop events, students gain confidence in their abilities, enabling them to navigate challenges with resilience.
Academic Growth: Vygo's mentors offer academic assistance, helping students improve their study skills, time management, and overall academic performance.
Transition Support: For new students, Vygo serves as a crucial resource, easing the transition into university life by offering guidance and insights from experienced peers.
In conclusion, this Vygo event demonstrated the powerful impact of combining in-person engagement with a virtual platform to foster student success. Through face-to-face interactions, students had the opportunity to connect with peer mentors, gain valuable insights, and begin to build a supportive network. Now, the work continues by encouraging mentors and mentees to continue their conversations - both online and in-person - and attend a series of skills workshops and ensure this positive engagement continues. Research consistently emphasizes the significance of such interactions in promoting student satisfaction, retention, and academic growth.
Beyond the connections with others, Vygo puts a full ecosystem of support services within easy access of your students. If you want to find out more, Vygo would be more than happy to support you on this journey.