The OfS Quality System: A Comprehensive Approach to Enhancing Education

Sasith De Silva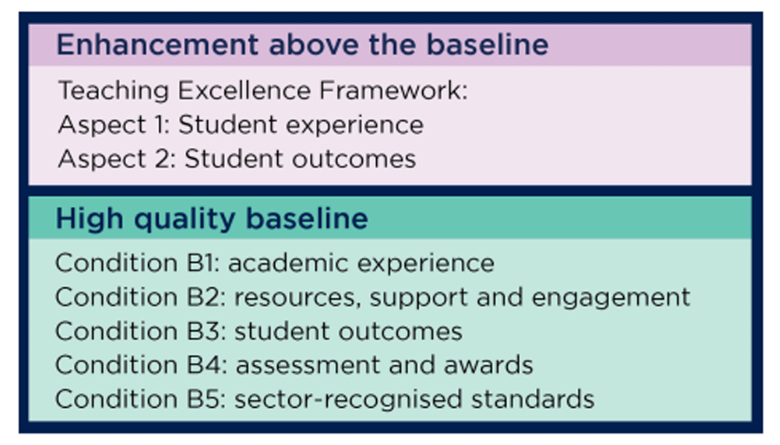 As someone working in the UK higher education sector, I wanted to learn more about the Office for Students (OfS) the independent regulator of higher education in England, focusing on ensuring that students receive a high-quality education and that their interests are protected. I did some research and so wanted to share it with my peers.
Higher education institutions play a crucial role in shaping the future of our society by providing quality education and fostering positive student outcomes. The Office for Students (OfS) has developed a comprehensive quality system to ensure that these standards are met and continuously improved.
This system encompasses two fundamental aspects: a high regulatory baseline and a cyclical assessment, both working together to incentivise the enhancement of courses and elevate the overall quality of education in the United Kingdom.

The OfS quality system operates on the principle that a robust regulatory foundation combined with ongoing evaluations is critical to promoting excellence and delivering positive student outcomes.
Two essential components represent the system:
1) The Teaching Excellence Framework (TEF)
2) The revised B conditions of registration.
This can be seen graphically below: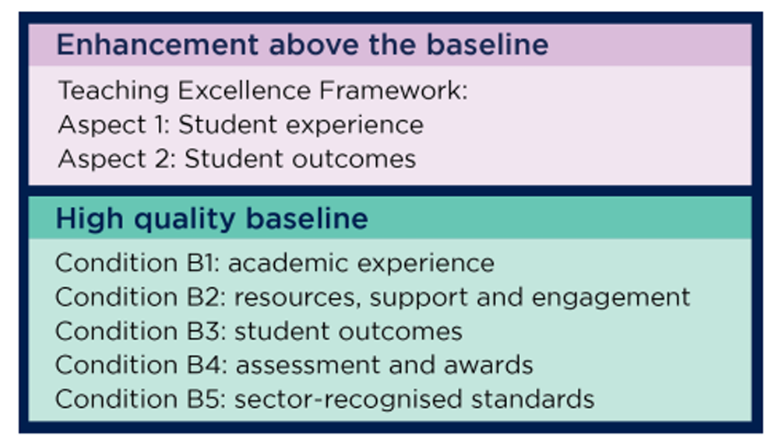 Image Source: https://www.officeforstudents.org.uk/

The OfS Quality System: A Comprehensive Approach to Enhancing Education

The TEF, depicted in the upper box of the diagram, plays a central role in the OfS approach to quality and standards. It involves an independent assessment conducted by academic experts and students to evaluate the quality of courses and outcomes delivered by universities and colleges. The TEF acts as a driving force, encouraging institutions to strive for exceptional teaching standards that go beyond the minimum regulatory requirements.

In the lower box of the diagram, we see the OfS revised B conditions of registration, which establish a high-quality performance baseline for providers. These conditions ensure that all students can expect to receive a high-quality education and achieve successful outcomes, regardless of where they choose to study. Many universities and colleges surpass this regulatory baseline, demonstrating their commitment to delivering excellence in education.

One important change implemented by the OfS this year relates to the regulation of student outcomes, which falls under condition B3. To measure and assess student outcomes, the OfS has set numerical thresholds for courses across different modes and levels of study. These thresholds consider historical variations in outcomes for students with specific characteristics.

For instance, for full-time students pursuing a first degree, the numerical thresholds are as follows:

80% of students should continue their studies
75% of students should successfully complete their course
60% of students should progress to further study, professional work, or other positive outcomes within 15 months of graduation.
To ensure transparency and encourage compliance, the OfS provides dashboards that display the performance of each registered university and college in relation to the numerical thresholds. This enables students, institutions, and stakeholders to gain insight into how well universities are delivering positive outcomes for their students. The availability of this data helps motivate universities and colleges to strive for continuous improvement without requiring formal regulatory intervention.

The OfS utilizes this data, along with the numerical thresholds, to identify providers that may be falling short in delivering positive outcomes. The assessment process considers the specific context in which providers operate and allows for interventions if necessary. Furthermore, this approach enables the OfS to examine performance in particular subjects and partnership arrangements, facilitating the identification and resolution of any instances of poor performance.

In November 2022, the OfS outlined the student outcome measures, modes and levels of study, and subjects that would serve as the basis for selecting universities and colleges prioritized for assessments related to condition B3. The initial assessment cycle will focus on factors such as continuation, completion, and progression to professional or managerial employment or further study outcomes for undergraduate first degree and postgraduate taught masters' courses. Additionally, specific subjects with large student populations and significant variation in student outcome performance across providers, such as business and management and computing, will receive particular attention.

The requirements outlined in the OfS B conditions encompass various aspects, including course design and delivery, academic support for specific student cohorts, and the rigour of assessment practices. These matters are of significant academic concern. Therefore, the OfS employs a combination of data and regulatory intelligence to identify courses and providers that may not meet
the regulatory requirements for quality.

In conclusion, the OfS Quality System represents a comprehensive approach to enhancing education in higher education institutions across the UK. By establishing a high regulatory baseline and implementing cyclical assessments, the OfS promotes continuous improvement and incentivizes excellence in teaching and student outcomes. This comprehensive framework ensures that students receive a high-quality education and prepares them for success in their future endeavours.
I would love to get some feedback on OfS and understand more about the importance of this to people at different Universities.