Enhancing the Student Experience: The University of Leeds' Digital Strategy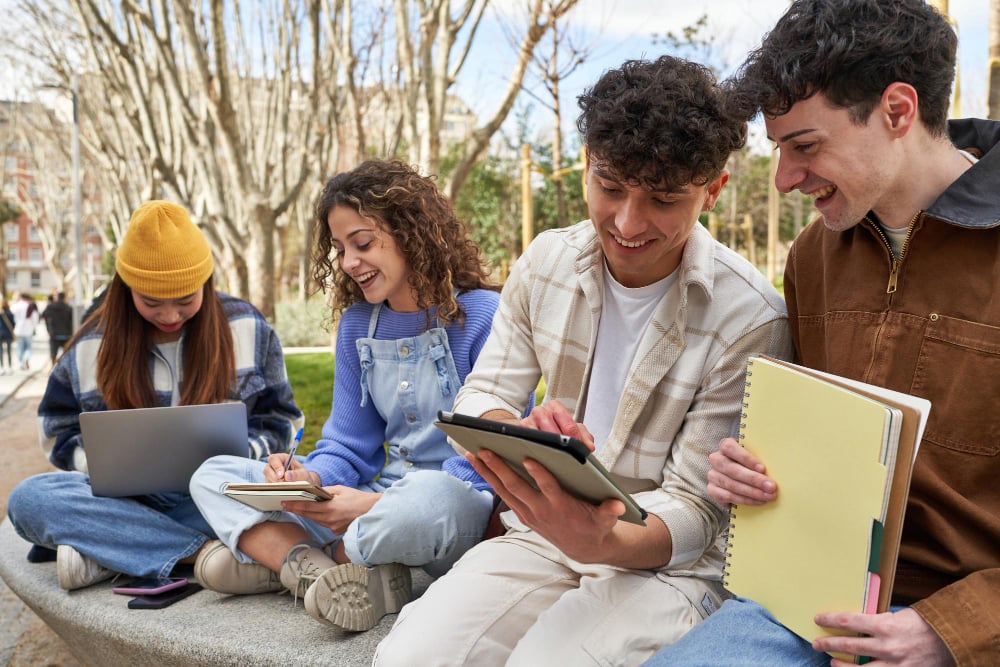 In today's rapidly evolving educational landscape, universities are continually seeking innovative ways to enhance the student experience. The University of Leeds has taken a significant step towards achieving this goal through its 2030 Digital Strategy, which focuses on unifying the student journey and leveraging modern technology to provide comprehensive support.
In this blog post, co-written with Professor Jeff Grabill (Deputy Vice Chancellor for Student Education at The University of Leeds) off the back of his fantastic guest appearance on The Broken Education Podcast, we will explore how the University of Leeds are reimagining the student experience, digitising student services to harness the power of data and fostering a greater sense of belonging at pace.
A Unified Student Journey
Universities generate a wide range of strategies to benefit the student experience. However, they are often outdated, admin-heavy, disparate and difficult for students to find. One of the central pillars of the University of Leeds' Digital Strategy is a student-focused, digital and innovative unification of the student journey.
The University's strategy is really bold and ambitious, focused on solving some really hard problems in higher education. Leeds are trying to figure out how to become a sustainable research institution that provides evidence-based, high-quality education for an increasingly diverse group of students that's tuned right for the challenges they need to accomplish in the future. We are attempting to transform at scale.
As Professor Grabill puts it in The Broken Education Podcast:
"The target should be that the best digital experience we have - as consumers - ought to be the kind of learning experiences that we provide to our students digitally. We should provide students with dashboards about the university that don't force students to understand how a university is organised and how a university functions. It's really orientating ourselves around what the student needs and how they want to experience their education…It's our job to marshall our resources to meet them at their point of need, digitally as well."
One of the ways that the University of Leeds aim to achieve this is by leveraging Vygo as their Support Ecosystem Platform. The aim is to consolidate a number of competing software services that students need to access, while providing a peer community platform to ensure scalable, personalised support for all students. This streamlining process simplifies students' lives by providing a cohesive digital environment where they can access all necessary resources and services in one place.
Sense of Belonging
This approach reduces the confusion and frustration that can arise when students have to navigate multiple platforms for various academic and administrative needs. The result is a smoother, more efficient experience that allows students to better focus on things like settling in, their studies and personal growth. In addition, more visibility of services should lead to more engagement where they are needed, and the University of Leeds can collect data on usage patterns and impact to evolve their strategy further.
As Professor Grabill explains:
"We want to shorten the timeframe to the moment in which a student says "I belong here". I can do the work, I can become the person I want to become here. Anything we can do to [enable students to find the resources and people they need] is going to increase the student success we have on campus."
A Modern Digital Student Support Ecosystem
Data, data, data
So how can universities go about about tackling this forward-thinking strategy?
"It starts with our data, understanding our data…making sure we have good data, and are able to build good applications and resources on top of our data. That's the biggest challenge for every university I know."
Often university-wide support services operate separately to opportunities that are bespoke to individual faculties, schools or even courses. The Student Union may also have its own services. With these disconnected systems, it's almost impossible to easily get a 360 view of student touchpoints throughout their journey. With Vygo, this data is brought together and even fed into the university's other data sources to enable a detailed analysis of student behaviour. This enables teams to spot trends and proactively intervene before negative events occur, as well as reactive to ensure the right support is offered at the right time.
"Our students need more active and compelling and better education experiences. We have to balance the mission [of becoming a sustainable research institution] with really challenging needs to prepare for the increasingly diverse needs of the student body. So every single programme of study, every school in the institution is engaged in educational transformation work which they have defined as meaningful for them, but which fits a consistent strategy and vision for the institution. So we're having a lot of fun!"
Surfacing Relevant Services
One of Vygo's key features is its ability to surface relevant services to students. By analysing each student's profile and academic progress, the app can recommend resources, support services, and activities that align with their needs and goals. This tailored approach ensures that students receive the support they require precisely when they need it.
Whether it's academic advising, career guidance, mental health resources, or extracurricular opportunities, Vygo acts as a digital concierge, guiding students towards the services that will enrich their university experience.
Peer Support
Peer mentoring is a powerful tool for helping students navigate the challenges of university life. The University of Leeds has several peer mentoring and buddy schemes running. Through channelling them through a central platform, students can easily connect with a pool of experienced mentors and save staff valuable time by reducing the admin required to run these programs manually.
By reaching more students, we facilitate the recruitment of more mentors, well-trained in the university's systems and resources, to provide invaluable insights, guidance, and emotional support to their mentees. This peer-to-peer interaction fosters a sense of belonging and community, which is vital for student well-being and academic success.
Key research to back this strategy
Conclusion
In conclusion, the University of Leeds' Digital Strategy is dedicated to enhancing the student experience by unifying the student journey and leveraging modern technology. The Vygo app, as a central component of this strategy, empowers students by streamlining access to services and facilitating peer mentorship. Through these efforts, the university is not only equipping its students with the tools they need to thrive academically but also fostering a supportive and inclusive community where students can grow and excel. The future of education is digital, and the University of Leeds is at the forefront of this exciting transformation.
Co-Authored by;
Chris Baker-Brown
EMEA Senior Partner Success Manager, Vygo
Professor Jeff Grabill
Deputy Vice Chancellor for Student Education, The University of Leeds